2023 Compassionary of the Year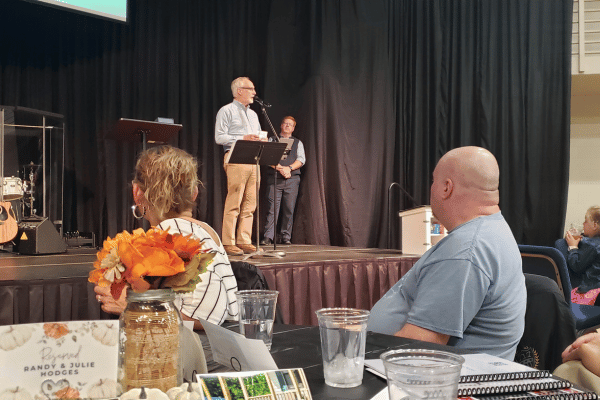 As you might imagine, countless stories and life-changing moments have been shared with the staff of Operation Inasmuch over its 28-year history. We have gotten to know and meet some remarkable people from many different communities and walks of life who have not only served but have devoted their lives to showing compassion to others.
It is one of the true joys of this ministry when we get to hear the stories of compassion that come out of an Inasmuch Day or just a person serving someone else. Stories of lives being changed because they served for the first time or someone who is having transportation issues because their car doesn't start or needs repair and someone from the local church blesses them by making those repairs.
One of those people that I wanted to highlight in this month's article is Randy Hodges. Randy has been married to his bride Julie for 34 years after having met in Knoxville at Central Baptist Church Fountain City. Randy's professional career led him toward insurance and financial planning, but his true passions were always something much different.
Randy has always loved cars and building things. Home renovations and restoring cars have been part of his story for most of his life. Julie told me he was almost late to their rehearsal dinner because he was working on the car they planned to drive on their honeymoon. Randy will even tell you that he bought his garage, and the house just came with it. I heard a tale that he stole his first car when he was a toddler. It was his brother David's peddle care he got for Christmas. 
Around 2005, at his church's Inasmuch Day, Randy participated in a car care clinic as one of the projects that day. It was "right up his alley." Popping the hood and helping someone with minor repairs, changing the oil, replacing the plugs…simple but practical. Randy helped again the following year, and by the 3rd year, Randy was the project leader. 
Around that time, Randy ventured on a trip to Chicago with his church. He came home inspired to begin a full car ministry within his church. With the blessing of his pastor (David Crocker) and the support of his church, Randy began the steps to starting a car ministry at church. This excerpt comes from The Samaritan Way by David Crocker: 
"Fast forward about a year. Randy has gathered a core group of "car ministers." They have defined their mission and researched the ministry by observing another church's ministry. They have positioned themselves to do whatever God leads them to do to provide reliable transportation for people who need it. Along came Bobby, a great-grandmother who has taken on the care of her two great-grandchildren. A church member discovered Bobby through the food pantry ministry of the church. The member was taking food to her because she lacked transportation to come to the pantry. Because the care ministry was made known throughout the church, someone donated a damaged care, which Randy and his team repaired for Bobby.
I was there when Randy gave Bobby the keys to her automobile. You would have thought it was right off the dealer's lot! She was speechless but managed a simple and heartfelt "Thank you." Her great-granddaughters were ecstatic. Now, they could participate in school events. Bobby could go to the grocery store, the doctor's office, and anywhere else she pleased without concern that her car might break down and leave her stranded again. It was a happy day, but the happiest person was not Bobby; it was Randy Hodges."
The church's Car Ministry lasted several years, with close to 2 dozen cars being given away to folks in need. Beyond the year-round car ministry, for the last 15+ years, Randy has continued to lead the Car Care Clinic project at the church's Inasmuch Day. This has led to countless small repairs being done and problems diagnosed, but it has also led to many, many conversations about Jesus. All of this comes back to Jesus and how we are to use the skills and passions He has put in us to build relationships and share the gospel with others.
Even recently, after hearing of a local couple that was in a desperate situation and working with a local church to get back on their feet, Randy connected them with a car. What a blessing!
What that says to me is that he sees the beauty and the possibility in old, unwanted, abused, and wrecked things. And fixing cars and making repairs is not a quick thing. It takes a commitment to roll up your sleeves and get a little greasy. Sometimes, the best projects we can work on are people. It will be messy and a little "greasy", but God is pleased, and God will use that grease for His glory!
And this year, since I knew Randy was retired, I asked Randy to put down the wrenches and help us with a project related to blessing boxes. Operation Inasmuch started in 2023 with the goal of building and installing 11 blessing boxes around the greater Knoxville area for churches and other groups that could use them. Randy became the coordinator for this new endeavor and did an amazing job throughout the whole process. Over the last year or so, Randy has helped build and install 14 blessing boxes in 5 different local counties, helping feed and supply basic needs to a multitude of people across the greater Knoxville area.
I say all of this about Randy to share some good news. At our annual Operation Inasmuch celebration dinner, Randy Hodges was honored as the 2023 Compassionary of the Year. We were so thrilled to present Randy with this important award. Randy was only the third person ever to be recognized with this award.
So what does Compassionary mean? It's a little like Compassion and a little like Missionary. We generally know what a missionary is, but let's define compassion. From a Biblical viewpoint, compassion is that human disposition that fuels acts of kindness and mercy. It is a form of love that is aroused within us when we are confronted with those suffering or vulnerable. So a Compassionary is an individual who puts compassion into action for themselves, their communities, and the world. Or further defined as a change agent emboldened to make a difference, serving beyond responsibilities to family and work to give help and hope to the least, the lonely and the lost.
Do you know any Compassionaries? We would love to hear those stories!! (Seriously, email or call us with those stories!!) Are you a compassionary? We should all strive to be one, if not! Jesus modeled the way we should live and put a premium on serving others. Let's all be more like Jesus!
PS:  Get your copy of The Samaritan Way today. It is a great book to use for your Sunday school group or small groups. It includes a study guide to help facilitate great conversations about lifestyle compassion ministry. All proceeds from book sales benefit Operation Inasmuch.