To Be or Not To Be a Good Samaritan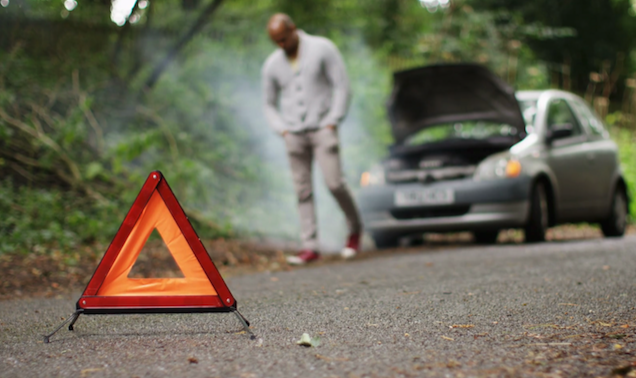 See if this sounds familiar. I was driving down the highway when I saw someone slowly, very slowly driving on the shoulder of the road. When I got closer, I saw their left rear tire was flat and they were obviously attempting to make it to an upcoming exit to stop and maybe get help in changing the tire. When I passed them, I thought to myself: "Why didn't I stop to help them? The driver may not have known how to change a tire and I could have done that."
Feelings of guilt lingered as I continued on my way. I am willing to say my guilt may have been stronger than most. After all, I work with a ministry that equips churches to mobilize their members to serve people in need. I preach on it… write on it (e.g.: this blog)… and sleep on it. What a louse I am, I thought. What a hypocrite!
Why People Do Not Serve Others
You know how I felt. You've felt it too… when you passed up the unkempt man on the corner holding up a sign that says "Anything will help"… when you decline to round up what you're paying for a soft drink at the convenience store to contribute to a local cause… and so on.
Why don't we stop what we're doing to help others when they are right there in front of us? For those of us who claim serving others is valued and admired, why don't we do it more frequently? What's up with our passing by?
Good Samaritan
At some point when we find ourselves in the midst of another refusal to act in doing what we can to meet another's need, the image of the Good Samaritan (Luke 10:25-37) surfaces. Remembering Jesus' story about the two religious leaders who passed by the robbery victim on the Jericho Turnpike and the Samaritan who did act is enough to make our stomach roll and our conscience scream. We cringe to think we are no better than those insensitive, cowardly characters in Jesus' story.
How much thought have you given to why the priest and Levite "passed by on the other side?" Sermons and Sunday School lessons on the story talk about the Jewish cleanliness rituals that required them to avoid dead bodies and bloody people. That is true, but it's not convincing. We still criticize them and feel guilty when we do the same thing.
Digging Deeper
When I wrote The Samaritan Way several years ago, naturally I included a discussion of the popular story. (Even I know better than to borrow the name without talking about the story from which it comes!) I shared the most intriguing study I found about why people do not stop to help someone in need. Two profs at Princeton Theological Seminary conducted a little experiment with their students to find out why people do not stop to help others. They created a situation in which the seminarians would encounter a man bent over, coughing, and giving the impression he was in trouble and watched to see which young theologians stopped. They added the variable of telling some of the students to prepare a short talk on the parable of the Good Samaritan and others on a totally different subject. Then they told some they were running late so they should hurry to give their talk and others that they had plenty of time. Of those running late, whether or not they had just reread the parable of the Good Samaritan, only 10% stopped to see if they could help the man in trouble. Of those who thought they had plenty of time, 63% stopped. Having sufficient time mattered more than preparing for ministry or preparing to talk to others about the Good Samaritan.
As I have reflected on this experiment, I agree that convenience of having sufficient time to stop is a major factor in why people do not help someone in need even if the need is squarely in front of them. That doesn't do much to relieve our guilt when we pass by people needing help, but it may face us with the kind of truth we need to be more like the Samaritan than the priest and Levite in Jesus' story.
There are possibly a thousand different circumstances in which we may encounter someone needing help and we decide either to help or not to help. This blog can't begin to cover all those circumstances. So, for our purposes here, let's confine our questions about helping to those that occur literally on the highways we travel.
Asking the Right Question
When it comes to deciding whether to stop to help someone in need, it matters what questions we ask. What will happen to me if I stop? What is the person going to do with my help? Is what I do real help (in the case of giving money) or feeding a destructive habit?
The best insight to this part of the question of whether or not to be a Samaritan-like comes from Martin Luther King, Jr.:
The first question which the Priest and Levite asked was "if I stop to help this man, what will happen to me?" The Samaritan reversed the question: "If I do not stop to help this man, what will happen to him?"
I did not ask that question when I passed by the motorist with a flat tire. But I felt sufficiently guilty that I said a short prayer asking God to forgive me and if He would give me another opportunity, I would not pass by again. Sure enough, not 30 minutes down the road, I saw another motorist stopped on the shoulder. I exited at my first opportunity, turned around and went back. He was pouring gas into his vehicle. I asked if I could help. He said he was okay, but he thanked me for stopping. We talked a few minutes (actually I listened to him talk for at least 10 minutes while he poured gas). Eventually, I went on my way without doing anything to help the man. Nevertheless, he was grateful I stopped, and I was, too. When he thanked me for stopping, he said people don't do that anymore. As a former truck driver, he had seen plenty of instances in which people refused to stop (probably including him though I can't be sure of that).
So I didn't help him. Or did I? Was my stopping at all helpful? No, if you think only of the material help he needed—gas for his car. But the answer can be yes if you think of the encouragement it was to him that someone cared enough to stop. My focus is not on what I did but on the impact someone stopping to ask if he needed help was on him. What this man said told me he was truly grateful I stopped, and the fact that someone—at least one of the thousands of motorists who passed by—stopped, and he was given hope, if only for a few minutes… of the reminder of the day, that the road is not such an impersonal, uncaring place after all. One can never overestimate the power of hope.
Just as despair can come to one only from other human beings, hope, too, can be given to one only by other human beings.

Elie Wiesel
When Jesus told the parable of the Good Samaritan, why did he make it so black-and-white? Why didn't he anticipate other, more complicated circumstances of need and address those? I don't know… nor does anyone else. What we DO know is Jesus told this story to a man who wanted a definition of "neighbor." And so, Jesus finished his story by saying to his one-person audience, "Go and do likewise." (Luke 10:37) I am convinced he says the same to us.
Your Thoughts?
I would love to hear your story about being or not being a Good Samaritan when you had the chance. What other insights do you have into Jesus' parable that can help people in everyday occurrences of need? Perhaps responses here can launch a healthy discussion regarding to be or not to be a Good Samaritan.