Three Areas to Help Your Church Thrive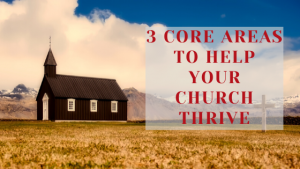 Serving in today's world will be different. We are faced with new challenges, emotions, and struggles that make us give pause to serving in the methods that we were used to before the COVID-19 pandemic.
We are playing and replaying the same questions in our minds: "Can I leave my house?", "Should I wear a mask?", "What if I get sick while trying to help someone else?", "Am I being disobedient if I do not rush out to save the world?" Depending on where you live in the country or in the world, people are faced with different sorts of questions and different layers of concerns. It is so difficult to make blanket statements that prove true for all right now. But, we can always start with God's word.
The Bible is pretty clear about serving your neighbor and taking care of the least of these. I cannot find a caveat that says "unless there is a pandemic or you are fearful." 1 Peter 4:10 tells us that "As each one has received a special gift, employ it in serving one another as good stewards of the manifold grace of God." God's grace is readily available. His grace fills us with the strength to overcome everything the devil tries to pile on us. God reveals Himself as our helper, protector, healer, provider, and defender. His grace supplies whatever is needed to lift the load and allows us to press on in service to one another.
As we mentioned in this video, we want to encourage you to not forget about your neighbors and your community. As we are being told to stay home or to not gather in large groups, it becomes very easy to stop looking outward to see what the needs are around us. We begin to focus only on our family or only on our church congregations. We forget about the high percentage of unchurched people all around us, and we really don't want to forget them as we struggle with the best ways to help.
I want to leave you with three core areas that will help your church thrive during these changing times.
LEADERSHIP – What a challenging time for our pastors and church leaders! We need to pray for these people who have been called and set apart to shepherd the church. With everything happening today, our church leaders have to be able to make quick decisions that impact large numbers of people, all the while seeking and trusting Christ for direction. Leaders, use this opportunity to refocus on the things that mean the most, both to your local church and to the church. Reground your staff and leaders about the biblical vision for your church and go be the church. As you look for ways to reach out to the community through service, you might just find some new unexpected leaders capable of meeting real needs in your own congregation.
ADAPTABILITY – The importance of adaptability right now can not be understated! This includes adaptability from the leadership and certainly adaptability from the congregation. Let's not let the devil get a foothold in the church with discord over varying options. Over the next 6 – 12 months, consider possible changes that could occur and pray about how you might respond. Setting more short-term ministry goals with potential "plan B" steps will prove to be effective in the near future. As you look at Operation Inasmuch, think about doing projects in small groups of 10 and under. Even consider spreading out the projects over several weekends to meet any guidelines in place and get the most bang for your buck.
COLLABORATION – This pandemic is definitely a time to come together. The body of Christ is made of many parts and we all have a part to play (1 Corinthians 12:12-27). Churches need to unify in ways that they have never done before. People are hurting. This pandemic has brought on unexpected deaths, loss of jobs and comfort, and millions of people are looking for hope. The emotional and mental health of people has been affected greatly. Depression and loneliness are at an all-time high and people are seeking fellowship and relationships. What a time for the church to step up, in the name of Jesus, and fill a void! Community agencies will be looking for help as things continue to unfold and again, the church has to be there for the community. Reach out to them as you plan Inasmuch projects to see how you might collaborate through your church.