Need + Passion = Lifestyle Compassion Ministry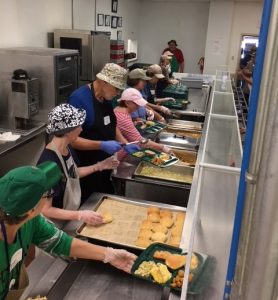 Bill and Judi Willard had no intention of establishing a regular, long-term ministry to the veterans at the Veterans Restoration Quarters (VRQ) in Asheville, NC, when they agreed to prepare and serve breakfast one Saturday as one of the projects of the Beverly Hills Baptist Church (Asheville) Inasmuch Day, but that's what happened. That was 2008. Ten years later they and friends from their church are preparing and serving a home-cooked meal to about 100 veterans once a month. (Judi is the youngest sister of David Crocker.)
David Crocker, Founder of the Inasmuch ministry, often says: "When we do what God tells us to do, He always has more in mind." With the Willards, it was to serve up fried okra and/or pork loin and/or made-from-scratch cake or a variety of menus to the veterans at the VRQ every month for 10+ years.
The Willards have gotten their Sunday School Class involved, too. For a while the Willards were covering the costs of the meals they served but it became more than they could do, so they asked the class to help. Now the class totally covers the costs. Also, as many as 20 members of the class have served alongside the Willards from time to time.
One of them is Bud, a retired retail manager and Army veteran, says passion is the key to lifestyle compassion ministry. He points out that Bill particularly has a passion for veterans probably because his mother was a nurse at a VA hospital for 25 years. The need of the vets added to the passion for serving vets has led to Lifestyle Compassion Ministry (LCM) for the Willards. It may not be too much to say that the "formula" for LCM is Need + Passion (for serving, for serving a particular group).
One volunteer with this ministry recently was Diego, a 15 year old who is limited by his cerebral palsy. When asked why he chooses to help prepare lunch for veterans, he said, "I love it. It gives me a chance to give back."
The eighty-something mother of another volunteer said, "I've never been involved in anything like this before. I love cooking and when I know it's for people who really need it and appreciate it, well it doesn't get any better than that."
The ultimate goal of the Inasmuch ministry is to see more believers engaged in lifestyle compassion ministry – ongoing, regular ministry to people in need in the name of Jesus and in which meaningful relationships are established and nurtured. A few participants in an Inasmuch Day find their way to LCM, aka Inasmuch Life, on their own, but not as many as we would like. According to the experience of Bill and Judi Willard, perhaps we should look for ways to match up the everyday needs of people with people who have a passion to serve those needs and let God do the rest… using the Inasmuch model of ministry, of course.