Leaving Our Mark on the Community
West Cabarrus Church in Concord, NC is one of dozens of churches who conducted an Inasmuch Day as part of the North Carolina Baptist State Convention statewide emphasis held the last weekend of April and the first weekend of May this year. From as early as 2013 the church has found that Operation Inasmuch is a valuable tool for mobilizing large numbers of their members into the community.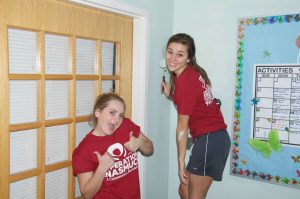 "West Cabarrus Church is a regional church, drawing members from a large area near the Charlotte Motor Speedway and the Concord Mills Mall and we wanted to draw our circle a bit tighter to minister to those who live closest to us," according to Pastor to Students and Families, Charlie Cole who served as the event coordinator. He continued, "we found a trailer park very near the church housing primarily Hispanic families and concentrated a large part of our work there deploying 40 or more volunteers to work on five homes."
In addition to doing landscaping, light house repair, both inside and outside of these homes, and sharing food the church's Missions and Hispanic pastor, Pastor David Bogran, along with some of the members of the Hispanic ministry, WCC Espanol, went door-to-door offering to pray with the families and sharing the good news of Jesus. In just that one neighborhood they experienced seven residents who accepted Christ as their Lord and Savior. "There were fifteen people from that neighborhood who attended the services of WCC Espanol the Sunday after the project!" Pastor Cole rejoiced.
How does this happen? How can doing home repairs and sprucing up result in people hearing about and responding to the Gospel? "It's in our DNA," Pastor Cole shared.  "Our intent is to leave our mark on the community." The church is intentional when training project leaders that the project, while important, is secondary to the relationships that can be built. "Sacrifice project for the conversation; if you get the
conversation, then put the shovel down," Cole added, "then if need be we can always go back and finish the project." Every volunteer is encouraged to be sensitive to opportunities to share their own story. Tracts and other material can be helpful, but nothing is more powerful than sharing personal experiences with Jesus, then listening to the other person's own life story.
The goal of the Inasmuch Day, according to Pastor Cole, is to make connections and build relationships. Discover where God is at work and join him, is the way that author Hendry Blackaby would express it. Operation Inasmuch serves as a powerful way to find those places, make those connections and build those relationships. It is more than just a single day, it is the launching point of ongoing, transformational ministry in our neighborhoods and the greater community.
A corollary to their Inasmuch Day is the annual Student Mission Camp. Instead of taking a mission trip away somewhere to do community ministry, the church has a week for their students to engage the neighbors through projects very similar to an Inasmuch Day. "We are intentional in findings ways for the church to 'serve out' and impact our neighbors," added Pastor Cole.
West Cabarrus created a terrific report and video that can be viewed here.