Faithful Inasmuch Church Rises from the Ashes
Just weeks after completing their seventh year of conducting an Inasmuch Day on July 18, 2015, most of Bethlehem Baptist Church of Taylorsville, NC was destroyed by fire. All that was left was the lower part of the fellowship hall. For several months while smoke damage was repaired, the church met at a nearby elementary school. However, before the year was over, they were able to meet again on the church property in what was left and salvaged of the fellowship area.
For over four years the church continued to make do while new facilities were built and on Sunday, August 4, 2019 the new sanctuary was dedicated and fully in use. Through those years of rebuilding from the ashes, the church continued to faithfully conduct their annual Inasmuch Day. As coordinator, Milton Good, said, "we never once thought about not doing Operation Inasmuch. It is so much a part of who we are and what we do. It is fulfilling one of Jesus' commands from Matthew 25:40…to do unto the least of these."
Milton has been the coordinator from the very beginning in 2008. "I've been the recipient of compassion ministry and can't imagine not being able to serve others." In 1999 he and his family lost the family business of 50 years and were financially distressed. His house badly needed a new roof. But despite his own need, he accompanied a group of men from the church down to Gulfport, MS to help with rebuilding after Hurricane Katrina damaged the area three years earlier. Knowing Milton's family's need, that same crew started the very weekend they returned to Taylorsville to tear out and replace the Good's house roof. "I've received, I will try to give back as long as I can keep going."
For Bethlehem Baptist Church, Inasmuch is a whole church family affair. Children as young as four are involved with other elementary children in preparing hygiene bags for the homeless. Teenagers conduct a carwash and pay for and pump gas at a local service station. Adults of all ages help prepare and deliver fruit baskets to local assisted living facilities, but not for the residents, rather as a way of saying "thank you" to all the staff. Others "feed the machine" at local laundry mats. And the senior adults prepare food and bag lunches for Exodus Homes, a homeless ministry in nearby Hickory, NC.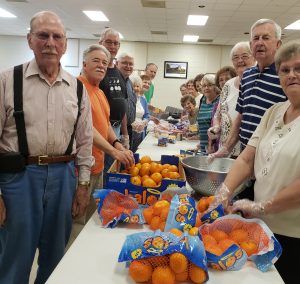 Milton shared how honored he was this year when he delivered those food gifts for the residents of one of the Exodus Home facilities. As he shared, "you always go prepared to offer prayers for the residents when you share the gifts from the church." But this year the residents insisted on circling him and praying for him and giving thanks for the church. "It was so humbling; it meant more than anyone could know to have those we think about being in need, wanting to bless us back."
Milton and Bethlehem Baptist Church are such an Inasmuch inspiration! They've refused to be deterred from serving their neighbors as the hands and feet of Christ through compassion ministry. Milton said, "the community was willing to do whatever we needed at the church when we lost our facilities. We will always do Operation Inasmuch in order to give back and to serve."
We are so grateful for those churches who have made Operation Inasmuch a priority and who understand the importance of doing what Jesus taught us to do. We are humbled when we hear of churches and leaders who are committed to continue serving their communities no matter what the challenges. May their tribe increase and flourish!