Operation Inasmuch trains and equips churches to hold a single service day each year in which 50-75% of those attending Sunday services volunteer to serve people in need in their communities.
It's one great day of ministry by a church to its neighbors in need: one church; one day.
Volunteers serve in a variety of projects on an Inasmuch Day such as:
Installing smoke alarms in low-income housing,
Building wheelchair ramps in the homes of disabled persons,
Holding a free Car Clinic — simple diagnostics and advice — for single mothers and seniors,
Assembling and delivering hygiene kits to local homeless shelters, and
Providing vaccinations and health screenings in neighborhoods where these services are not available.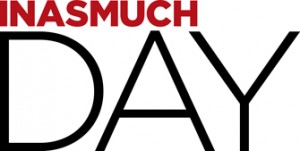 An Inasmuch Day clearly serves each church's community, but it also changes the lives of parishioners, giving many a passion for community service and, in fact, revitalizing whole congregations.