College Students Serving God and Community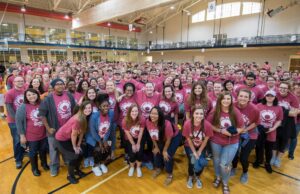 For this month's newsletter we are headed back to college! Carson-Newman University has been using Operation Inasmuch on their campus for nearly 15 years to give their students the opportunity to grow in their faith through service. Operation Inasmuch is a ministry that was founded in a local church by a local church body, but its mission is for the church – the body of Christ! That includes faith-based schools and universities with young people who love the Lord and want to live out the gospel by being the hands and feet of Jesus.
Through the years, Carson-Newman continues to not only say they want their students to be worldwide student leaders, but throughout their campus they put into action ways to do just that. Every fall new students and returning students alike are encouraged to participate in their Inasmuch Day. Several hundred students each year take time out of their schedules to learn about and serve throughout the Lakeway Area.
To accompany our video interview, I have included an article written by Dave McNeely, Coordinator of the Faith & Justice Scholars and Adjunct Professor of Religion at Carson Newman University:
"At the heart of Christian faith is a God who serves.
At the moment of creation, we meet a God who serves majestically by creating through spoken word, but also a God who gets hands dirty and brings life out of some divine heavy breathing (Genesis 1-2). In Exodus, we meet a God who hears the cries of the hurting and bends heaven and earth to free the oppressed. And in the Prophets, we meet the fierce rebuke of a God who will not allow us to let our service of God become a substitute for our service of others (cf. Amos 5).
In Christ, we encounter a God whose very identity and mission is intimately tied to service. Just as the Word became flesh (John 1:14), the love of God became hands and feet, not only preaching the good news of redemption and restoration, but expressing such news physically through healing, feeding, and serving. Such service was not incidental to the mission of Jesus but central to it, as Jesus Himself expressed His purpose as "not . . . to be served, but to serve" (Matthew 20:28). Furthermore, the kindness of Jesus was not "random," but had a focal point, namely the most marginalized and vulnerable members of His community.
In one of His final messages before He died, Jesus translated His own ministry into a missional directive for His followers, laying out a stunning vision for service:
"When the Son of Man comes in His glory, and all the holy angels with Him, then He will sit on the throne of His glory. All the nations will be gathered before Him, and He will separate them one from another, as a shepherd divides his sheep from the goats. And He will set the sheep on His right hand, but the goats on the left. Then the King will say to those on His right hand, 'Come, you blessed of My Father, inherit the kingdom prepared for you from the foundation of the world: for I was hungry and you gave Me food; I was thirsty and you gave Me drink; I was a stranger and you took Me in; I was naked and you clothed Me; I was sick and you visited Me; I was in prison and you came to Me.'
 "Then the righteous will answer Him, saying, 'Lord, when did we see You hungry and feed You, or thirsty and give You drink? When did we see You a stranger and take You in, or naked and clothe You? Or when did we see You sick, or in prison, and come to You?' And the King will answer and say to them, 'Assuredly, I say to you, inasmuch as you did it to one of the least of these My brethren, you did it to Me.'"  (Matthew 25:31-46, NKJV)
Often referred to as "The Parable of the Sheep and the Goats," these words became the impetus for Operation Inasmuch, a global ministry that seeks to equip and empower Christians to serve "the least of these" through acts of compassion and service. Since 2005, Carson-Newman University has partnered with Operation Inasmuch to engage our campus and community in a one-day service blitz.
Through our annual events, the C-N family has fanned out across East Tennessee to embody the love of Christ through our hands and feet, but the legacy of these service days extends much farther.
Expressing his vision for the impact of Operation Inasmuch, former pastor and Inasmuch founder David Crocker put it this way: "God is not satisfied with seeing [Christians] mobilized for a day or two of compassion ministry each year. God wants to see all believers involved in this kind of ministry as a lifestyle!"
Through Operation Inasmuch and the Center for Community Engagement at Carson-Newman, countless students have not only offered a few volunteer hours in the Fall each year, but have found their place of continued service in this world, the place where, as celebrated author Frederick Buechner explains, "your deep gladness and the world's deep hunger meet."
Our hope is that Operation Inasmuch does not serve as an end, but a beginning; not a box that can be checked off your to-do list, but a springboard for deeper involvement in service; not just a class assignment to complete, but a lifetime calling to accept.
In such hope, we join our prayers with those of the apostle Paul, one of the earliest Christians to translate the Gospel of Jesus Christ into a missionary lifestyle, who wrote these words to the Christians gathered in Philippi:
"And this is my prayer: that your love may abound more and more in knowledge and depth of insight, so that you may be able to discern what is best and may be pure and blameless for the day of Christ, filled with the fruit of righteousness that comes through Jesus Christ—to the glory and praise of God." (Philippians 1:9-11, NIV)
The love that God desires of us is not merely a sentimental love of rightly-ordered affections but a consequential love of rightly-ordered actions. What we do with our hands is of equal concern to God as what is happening inside of our hearts.
In order to love well, we must think well. Such thoughtful love does not happen by accident, but through attentive and careful reflection, such as is characterized through service-learning. At Carson-Newman, our mission is "to help our students reach their full potential as educated citizens and worldwide servant-leaders." This mission recognizes, along with Paul, that we are "co-workers in God's service" (1 Corinthians 3:9, NIV), set apart for a sacred task that requires nothing less than all of our heart, soul, mind, and strength as we love both God and neighbor (Mark 12:29-31)."
Contact us if you would like more information about how your church or school can mobilize believers out into your community.