Church Growth Through Inasmuch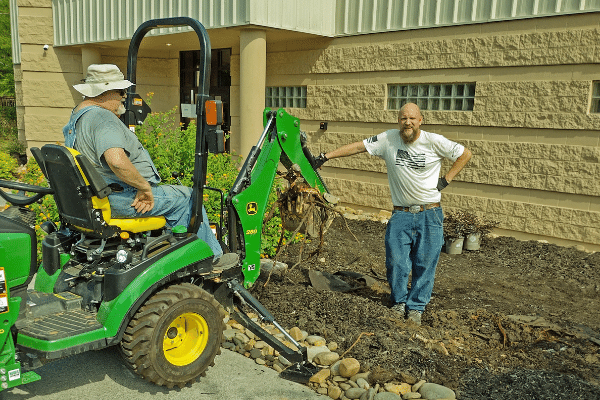 Meet Billy, one of the newest members of First Baptist Church, Gatlinburg, Tennessee. Billy didn't grow up in Gatlinburg like most other church members. He had no previous ties to that or any other church in the small mountain town. He came there only recently when his brother, who builds log cabins for a local businessman, asked him to come work for him.
Billy didn't answer immediately. He reminded his brother of his physical limitations—lingering effects of military action when he was a soldier in Iraq. A mortar round hit the Humvee in which he was riding. Most people don't survive such a direct hit, and there were times when Billy may have wished he hadn't. But a year's worth of multiple hospitalizations and seventeen surgeries later, he now has a life that is as normal as it's going to get. He has no feeling at all in his left leg and wears a high-tech device that enables him to stand and walk . . . and work. If you were to watch him, you wouldn't suspect his history and daily mobility struggles. The device he wears is that good. So, after reminding his brother of these facts, the brother said, "I know all that, but you will show up, and you will work." Billy now builds cabins in Gatlinburg with his brother.
In August of 2021, First Baptist Church conducted their first Inasmuch Day with about two-thirds of their average attendance participating. David Crocker served as Interim Pastor at the time and led the church to do Inasmuch. All but one of the participants were regular attenders at the church—Billy. A church member who works for the cabin business Billy works for asked him if he would like to help at the Inasmuch project of refurbishing the landscaping at a local non-profit, and, being the doer he is, Billy agreed to help. It was hard work on a hot day, but Billy hung in there with the church volunteers all day.
The following day, he attended First Baptist for the first time. He recognized his boss singing in the choir and those with whom he worked the day before. He enjoyed his initial visit, so he returned the following Sunday and the next and quickly decided the church was a good fit for him. After all, they showed him how much they cared about people in need by serving through Inasmuch. Billy joined First Baptist and now sings in the choir alongside his boss. He has also gotten involved in the only food pantry ministry in Gatlinburg housed and otherwise supported by the church.
Billy has become a valued member of the church in a short time . . . and Inasmuch played a role in that development. When the Inasmuch ministry trains a congregation to conduct an Inasmuch event, we tell the church leaders not to limit themselves to church members only as participants but to look outside the church for those they might invite to participate. There are other Billys out there just waiting to be asked to serve. They want to serve others. They need an opportunity. Furthermore, they need to see at least one church in their community cares enough about people who are not part of their church to implement an Inasmuch Day. Who knows? They may just join the church . . . and sing in the choir!