A "Little Hot Dog Supper" Makes a Big Difference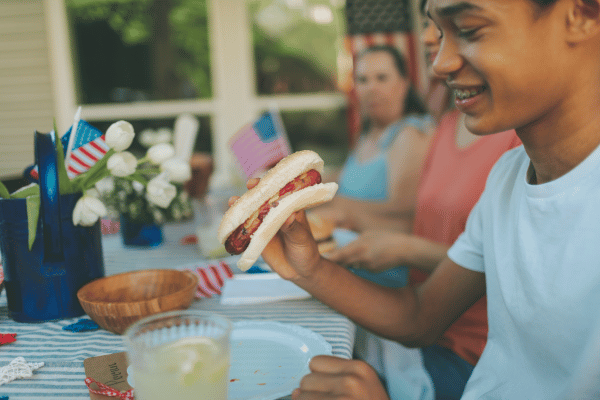 Serving others is difficult. Let's just be upfront about that. If it weren't, the vast majority of churchgoers would be doing it more regularly. But, it is, and unfortunately, they are not. Most churches fall into the old but proven adage that 20% of the people do 80% of the work. And we hear too often, "It's more like 10%/90% at our church."
But why? There are lots of reasons that I will not take the time to cover in this newsletter piece, but I wanted to focus on just one of those reasons today. (Check out the Compassionaries Blog for more on serving.). We tend to complicate and make serving harder than it has to be. We want to form elaborate ministries or even elaborate, expensive projects. This simply becomes exhausting, time-consuming, and not cost-effective, which puts us right back to square one.
At the heart of every service opportunity is a chance to form a relationship with someone. A chance to start a conversation that hopefully will point that person to Christ. We say we want to make a big impact as followers of Christ, but we forget to or are too scared to start with the basics. One church in North Carolina reminds us that the biggest impact can be as simple as a hot dog supper.
Sandy Ridge Baptist Church in Hickory, NC, just finished up their Inasmuch Day this spring. To some, it was a day filled with projects such as visiting nursing homes, serving folks in the hospital, landscaping at the elementary school, and patching driveways. But there is one family in that church that was serving this year with a whole new perspective on life and a new reason to serve others themselves.
Thomas and Amy served together in this year's Inasmuch Day for the first time. They are new to their relationship with the Lord, and it is all because of a project that happened during last year's Inasmuch Day. Tim Fox, Inasmuch Coordinator for their church, explained that they first met Thomas and Amy in 2022 during a hot dog supper. "Our church decided to just have a little old hot supper as one of our projects last year. We set up in one of the local neighborhoods here and went around and invited people to come down and have a hot dog and say hello. When I first met Thomas, we bonded a little over motorcycles, and we invited his family to come down to eat. Well, they ended up coming down and meeting several of our church folks and eating a hot dog with us."
Two weeks later, Thomas and Amy came to church at Sandy Ridge Baptist. And after a good first experience, they kept coming back. They could see that the people at Sandy Ridge loved each other. A few weeks later, Thomas gave his life to Christ. And as you might expect, 3-4 months later, Amy gave her life to Christ. They have since had baby/child dedications for each of their 3 children, and they are faithful attenders. Tim added, "They don't miss! They have come so far. They are totally different people. They knew nothing about the love of Jesus Christ, and now they are both growing in the Lord. They do not want to go back to the way they were before getting saved, and they want their kids to grow up in church." And then he added the exclamation mark to the conversation, "I guess a little old hot dog supper can make a big difference."
That's it. A simple project. A simple concept. And now, this family's ETERNITY is on a heavenly course. And think of their children. The decision by these parents to make Jesus their Lord might have just changed their entire family tree for generations to come! All because of some hot dogs. All because people at Sandy Ridge got outside the church walls and met the people in Hickory, NC, right where they were at. The Holy Spirit does ALL the hard work. We just have to step up and be used as vessels for the Lord.
So, who's got a grill? Let's get to serving!!
Do you have a story from an Inasmuch event? Share it with us in the comments, by phone or email, or in our Facebook Community Group.