975 Wheelchair Ramps and Counting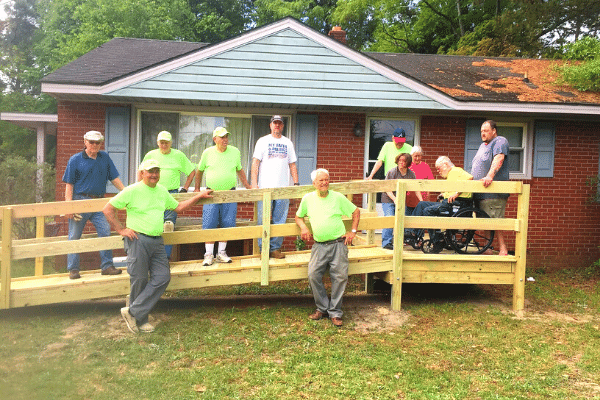 If there is a Guinness World Record for the number of wheelchair ramps constructed by one team, it would belong to the Snyder Memorial Carpentry Ministry Wheelchair Ramp Team (SMCMWRT). For the last 15+ years this team has built a wheelchair ramp every week. When you do the math, it turns out to be at least 975 ramps built by the same team. (This number does not include 50 – 60 ramps built by Snyder teams prior to 2007.)
In December, Gene Whaley and David Crocker from the national office of Inasmuch watched the Snyder team build their 974th ramp and it was obvious to them this one was done with as much pride and joy as their first back in the '90s. Building a wheelchair ramp has become the Thursday activity for each of these men. They wouldn't think of missing it. They say that they are having just as much fun as if they were playing a round of golf together every week. And here is the best part: more than 1,000 people who have mobility issues have been served.
We at the Inasmuch ministry have talked about "Lifestyle Compassion Ministry" for years. When we train a church to conduct an Inasmuch Day, we make sure they know that the event is intended to be just the beginning. We encourage them to find ways to keep compassion ministry going for people in need in their community. Truth be told, not as many do as you would hope. But when it does happen, it's because a fire has ignited in the heart of an individual or group to keep serving people in need on their own.
Such has been the case with SMCMWRT. It all goes back to 1995 when the first Operation Inasmuch was held by Snyder Memorial Baptist Church, Fayetteville, NC. On that day several teams built wheelchair ramps while dozens of other teams did a variety of indoor and outdoor projects around Fayetteville. Every year since, wheelchair ramps have been a standard for Snyder's Inasmuch Day. Somewhere along the way, a Carpentry Ministry evolved in which mostly retired men in the church began to collect tools and stock a shop where compassion carpentry could take place between Inasmuch events. One thing led to another, and the idea of building wheelchair ramps regularly surfaced and quickly took hold.
One of the reasons the Snyder team has been able to build so many ramps is their partnership with their local chapter of the Cumberland County Office on Aging. The state agency receives requests from elderly residents for a wheelchair ramp. They vet the situation and provide the materials for each ramp using funds provided by the State of North Carolina. When a request for a ramp comes from a person who does not meet the agency's guidelines, the church funds the work themselves. This funding is self-sustaining in that no request for a ramp has been declined. Regularly, Wayne Howard of Snyder Memorial talks with his contact at the Office on Aging to get the location of the next ramp. He visits the site and sketches out a design for the ramp, makes a material list and submits both to the agency. The materials are picked up by another team member who takes them to the church's carpentry shop and begins building portions of the needed ramp. The next Thursday, the team meets at the site, builds the complete ramp, including handrails, in 2 to 3 hours and they are done until the next week.
One more thing… and this is very important… after building the ramp each week the team eats breakfast together at a local restaurant. This group of men have ministered together for many years and broke bread together just as many times. Talk about living life together!
Given the commitment of the Snyder Carpentry Ministry Wheelchair Ramp Team to building a ramp each week, there is no telling how many will be done. They show no signs of slowing down any time soon. What an inspiration these men are to serving people with mobility issues in their community—true lifestyle compassion ministry in action.