When Plan B is Better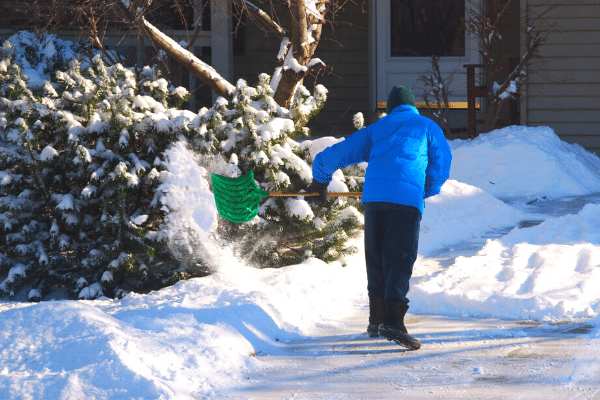 I am a happier person when Plan A works. So are you. So are most people. Plan A is what is on our calendar or To-Do list for the day. It's what we expect to do and usually prefer to do. But it isn't always possible to do Plan A. The schedule changes or a problem arises unexpectedly or something else forces us to go to Plan B. (If you're like me, you spend more time in Plan B or C or W, it seems, than with Plan A!)
Weather is one of the things that often leads to Plan B. Such was the case this week when a winter storm moved across the eastern part of the U.S. on Martin Luther King weekend. Whatever was planned for MLK Day including parades, speeches in large gathering, or just everyday activities went out the window and a lot of people went to Plan B.
This is exactly what happened in Bethel Park, PA, a community of about 32,000 people on the fringe of Pittsburg. The storm dumped about a foot of snow on Bethel Park. People were stuck at home. Elderly people could not get out at all even if they wanted to.
Plan B
The local high school football team had planned to go to the school on this holiday and lift weights. That was Plan A. But Coach Brian DeLallo sent this message to the team: "Due to expected severe weather, Monday's weightlifting workout has been cancelled. Find an elderly or disabled neighbor and shovel their driveway. Don't accept any money—that's our Monday workout." Apparently, "shovel day" began as a tradition for the high school football team in 2002. Monday the team shoveled the driveways and walkways of about 100 homes and planned to go back this week to do others they couldn't get to Monday.
When Plan B is Serving Others, it is Better than Plan A
Serving others trumps many of our plans, especially what we plan to do for ourselves. Unfortunately, unless something happens to detour us from Plan A, we miss the blessings of serving. I'm going to go out on a limb when I say serving others is always better than serving ourselves. Better for us and better for the person we serve. At the very least it creates good will and sometimes may lead to a completely new direction for those we serve.
Have you been bothered by that part of the routine instructions from flight attendants when you fly about the oxygen masks—put your mask on first then help little children? That's counterintuitive! We default to helping children and elderly before we help ourselves because they cannot do for themselves. I do realize flight attendants' instructions regarding oxygen masks are the right things to do in those unusual circumstances, but it still sounds strange.
People Being Served
A 74-year-old woman in Bethel Park, PA, was worried when she first saw the heavy snowfall Sunday/Monday. "I thought, 'What am I going to do? There's no way I can get out there and shovel myself out,'" she said. She was recovering from shoulder surgery and didn't have family members to help her. A few hours later she heard a knock on her door and when she opened the door, she saw two teenage boys standing on her porch with shovels.
"I couldn't believe it… and they didn't want a single penny to do it."
This is not just about snow. It's not about substituting shoveling snow for weightlifting for athletes. It's about the chance to show your neighbors you care about them. It's about seeing a need and meeting that need. It's about raising the level of hope and good will in the entire community, AND because this story was reported by The Washington Post, inspiring people everywhere to do what they can to serve their neighbors.
People Serving
One of the football players said, "It was a fun way to spend the day. We just kept going until we'd done six houses. We even skipped out on having lunch." If that isn't proof that serving others is always better than serving ourselves, I don't know what is. When have you heard a teenage boy skip a meal for anything?! Do you think that would have happened if he'd spent the day lifting weights?
Another player said, "I like helping other people, and I love the snow, so it was fun to get a workout outside. It was cool to see how happy people were when we showed up."
Lasting Value
This story is uplifting on so many levels. I like it for all the reasons shared in this blog, but the thing I like most about it is the fact that those young men will not forget that experience. It will be a MLK Day to remember for a long time. And here's the best part—this experience will continue to bear fruit in their lives for a long time, . . . long after the muscles they would have developed in their normal workout have gone flabby and football is a faint memory.
Their coach just may have done more for his players than Xs and Os can ever do. He came up with a Plan B that was way better than Plan A!
Your thoughts?
When have you had to go to Plan B and it was better than your original plans? When has Plan B or C or whatever led you into a memorable time of serving others? I'd like to hear your story.