Collaboration – Raising Serving to the Next Level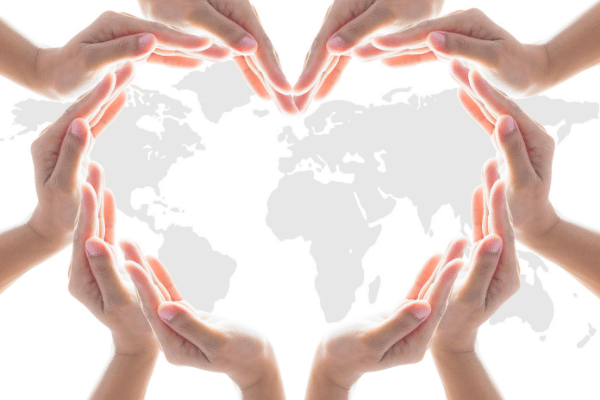 Last Saturday was another huge blessing as I was part of Inasmuch United Knoxville. Specifically, I was responsible for one of two food packing events in which 60,000 meals were packed and donated to local organizations to distribute over time to food insecure people in my community. This was only one of 38 compassion ministry projects conducted under the banner of Inasmuch United Knoxville.
The truly beautiful thing about this event was how collaborative it was. The funds to pay for the supplies came from a local business. Two different faith-based, local ministries received all the finished product to pass on over the next few months. AND volunteers who came together to do the work came from 14 different churches!
I told the group before we began the work that if they were people who enjoyed collaboration, they were in the right place. Of the 14 different churches, they were racially mixed and from 7 denominations and nobody cared—all in the same room, working shoulder to shoulder for several hours for a common purpose.
Why don't churches work together more often?
Just today a friend told a story of a time when his church collaborated with other churches to minister to people in need. When a person he was helping asked what it was all about, he said, "Well, this is an Inasmuch event in which several churches have come together . . . ," and the woman interrupted him to say, "That's something you don't hear very much!" Before she heard the full explanation or the goals of the event or how many people were involved, she was impressed . . . because churches were working together.
If collaboration is such a good thing, why don't churches do it more often? There is not enough space in this blog to identify all the reasons churches don't collaborate with other churches, but I offer three:
An island mentality. Some congregations ignore the fact that other congregations can partner with them in ministering to their community. They prefer to go solo. Mega churches sometimes display this thinking. They have the resources—both human and financial—and the confidence to accomplish whatever they wish without working with others.
Distrust of other churches. Theological differences can become barriers to collaboration as if agreement in all areas required to work together. I have long believed almost all churches have far more in common than not, but the differences are the focus for some. Such is theological arrogance.
Logistics of collaboration are too challenging. Most aspects of a ministry event are more challenging when multiple congregations are involved—promotion, tracking volunteers, communication, etc. I think this is where the term "herding cats" came from. For this reason, some churches are reluctant to take on those challenges in order to collaborate with other groups.
Collaboration is a cup more than half full.
When it comes to collaboration among churches, the benefits far outweigh the challenges. Again, because of space limitations, I offer only 3 of many benefits:
I'll start with the most obvious—greater impact. When congregations work together, they mobilize more people to serve which enables them to serve more people in need which addresses more needs in their community. In this case, more is better . . . a lot better. And that leads to the enhancement of another "I"—influence. I don't have to tell you that the church's influence has declined over the last few decades, and it shows no inclination to stop. But when churches work together, they recover some of their influence in the community.
Shared responsibility. When another person comes alongside you to help you do something you have difficulty accomplishing on your own, you appreciate it. Your job becomes easier. Your spirit lifts because you realize you are not alone. Hope comes with help. The same principle applies to churches. When churches work together, they share the responsibility of caring for the poor and loving on the lonely and hurting, and so forth. What is already a joyful experience gets even better.
Builds relationships. I know two congregations, one white and one black, located on the same road just a short distance from each other. They had never cooperated to do any ministry together of any kind, but they do now. One of them began conducting Inasmuch events and realized the two churches could collaborate to make a greater impact on their community. As they served together, they learned about each other and built friendships that extended far beyond short-term ministry events.
"There is one body and one Spirit, just as also you were called in one hope of your calling; one Lord, one faith, one baptism, one God and Father of all who is over all and through all and in all."

Ephesians 4:4-6 NASB
When I think of collaboration among churches, I think of Tappahannock, Virginia. The churches in that small community have been conducting Inasmuch events for at least 15 years. They say it is the most unifying thing that happens in their small, eastern Virginia town. Each church follows her respective traditions of worship on Sundays, but they come together to tackle the needs of the poor in their community. They pool their resources and gather their people power to get more done and the entire community is better for it.
What do you think?
What is your experience with collaboration among churches? What would you add to this blog as reasons for churches to work together? I would love to hear your stories.