5 Traits of a True Servant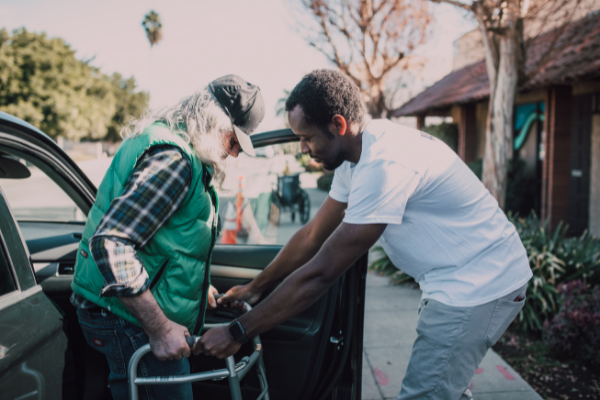 Not everyone who serves is a servant. Not everyone who does something for someone else is serving. If you Google "serving," you will see plenty of articles about military service. I was in the Army, but I do not think of that time as serving. If I had been in combat, I might feel differently, but I had a desk job the entire time. To this day, when someone thanks me for my service in the military as often happens on Veterans Day or Memorial Day, I feel a little guilty because I didn't do anything special.
When I think of serving, I think of helping people at the point of their need—the hungry, the lonely, the imprisoned, the oppressed, the homeless, the mentally ill, and so forth. I also think of serving as an attitude toward others that manifests itself in putting them before self, helping others in some way whether or not they ask for it or even realize it.
Anyone can serve others. It does not require any special skills or experiences, only the willingness to help others as you have the opportunity. However, there are observable traits in those who serve. I have had the opportunity to work with hundreds of churches in helping them mobilize their members in authentic service to their community. Here are the qualities of servants I have seen many times over.
1. Humility
Serving begins with humility. Some might argue that it begins with an opportunity—encountering a person in need—but I believe without humility, you might not recognize the opportunity. At its base, serving is giving some of yourself to someone else, some of your time, some of your wisdom, some of your strength, some of your money. It is letting go of something in your possession for the benefit of others.
Humility is not an acquired skill. It is not something that can be taught as much as it can be caught. Humility is the willingness to play "second fiddle." The famous maestro Leonard Bernstein was once asked which instrument in an orchestra is the most difficult to play. He answered: "Second fiddle." Then he added: "Yet, if we have no second fiddle, we have no harmony."
Humility is not . . . thinking less of yourself; it is thinking of yourself less.
Humility is not . . . a sign of weakness.
Humility is not . . . sitting on the sidelines.
Humility is . . . the courage to be honest with yourself and those around you.
Humility is . . . being teachable.
Humility is . . . allowing yourself to be vulnerable.
2. Seeing Needs
I have often said one of the best things the Inasmuch ministry does is expose people who are reluctant to serve to some of the needs in their community. A true servant is a person who sees, I mean truly sees the needs of others. Whether it is being observant or compassionate or simply open to being touched by another's need that causes a person to see others in need, I can't say. And, frankly, it doesn't matter. It doesn't matter what causes a person to see another's need as long as he sees it.
We don't see needs because we don't travel in places where needs are more conspicuous. Our traffic patterns do not take us into those places, but the people who live there are our neighbors, and we need to see their needs. A second problem with seeing needs is we don't want to see them. How many times have you grimaced and looked away when a commercial for World Vision shows pictures of starving children on your television? Pretty much all of us have looked away when we drive up to an intersection and there is a ragged, dirty person there holding a sign that says, "Anything will help." A true servant's eyes are wide open to the needs around her.
3. Compassion
Compassion is being moved by another's pain or need. It is grounded in empathy or the ability to put oneself into another's situation as if it were our own. Empathy is not the same as sympathy, nor is compassion the same. Sympathy is pity, maybe heartfelt regret for another's needs but it doesn't lead to action. Henry Ford said: "Never look down on anybody unless you're helping him up."
The role model for compassion is the Good Samaritan. In Jesus' telling of the story, he says when the Samaritan saw the robbery victim, "he had compassion on him." And he proceeded to bind up the man's wounds and carry him to a safe place where he could recover. The point is clear:
Compassion Leads to Serving.
4. Courage
Serving others will inevitably lead to situations that move you out of your comfort zone. The fact is when you give yourself in response to another's need, you become vulnerable to their pain and you may well feel inadequate and/or out of control. It is rare that serving is dangerous, but it can happen.
A true servant is one who pushes past fear to serve whether that fear is from real or perceived danger or merely discomfort from unfamiliar circumstances. Fear can paralyze us. It can trump feelings of compassion if it is strong enough. It can cause us to ignore what we can plainly see as needs of another person out of a sense of self-protection. Self-protection is natural and in most cases works to our benefit, but there are times when we can, if we choose, set it aside for something we believe is more important. A true servant is able to do that.
5. Sense of Responsibility
Over years of watching people serve others, I have seen that they usually feel responsible, not for the pain or suffering of another, but responsible to do something to meet the need or alleviate the suffering.
A sense of responsibility can come from two sources. One is a strong sense of community that you are part of a larger community and bear some responsibility to make it a better place. So, you pay your taxes, obey the laws, refuse to litter, and do what you can to serve the less fortunate. Serving is simply one way of being a good citizen.
For us who are followers of Jesus, being responsible is a matter of obedience to God. Even a cursory reading of the Bible, especially the Gospels that tell of the life and ministry of Jesus, shows that God has a special place in his heart for the poor and oppressed. So, serving becomes a matter of acting on his behalf, or better yet, allowing yourself to be an instrument of healing in his hands.
Story of Serving
Somewhere in the world, in the midst of street fighting as part of a larger war, a news reporter covering the war saw a child wander into the line of fire and was shot. Forgetting his job, he risked his own life to run to the child, scoop him up and run to safety. He saw quickly that the child's wound was serious and required immediate attention. He carried the child around the corner, flagged down a cab driver, jumped into the back seat and said: "Hospital! Please hurry!" As the cab sped toward the closest hospital, the reporter kept saying to the driver, "Faster! My child is dying!" Soon they pulled up to the ER and the reporter jumped out of the cab and passed off the child to the waiting arms of a nurse. The cab driver got out his cab, too, wanting to be sure they had gotten there in time.
After he composed himself, the reporter asked the cabbie to take him back to the neighborhood where the fighting took place. He said: "I have to go tell his parent what has happened." Perplexed, the cabbie said: "But you said, 'My child is dying!'" And the reporter said: "They're all our children."
For Pastors
This list of traits is not meant to be a test or checklist a person has to complete before serving. Rather, it is hoped they give insight to why some serve, and some do not. A lesson or sermon on these traits might take the approach of answering the question: Do you have what it takes to serve people in need?