Operation Inasmuch and Carson-Newman University Share an Anniversary
Ten Years and Counting for Inasmuch at Carson-Newman University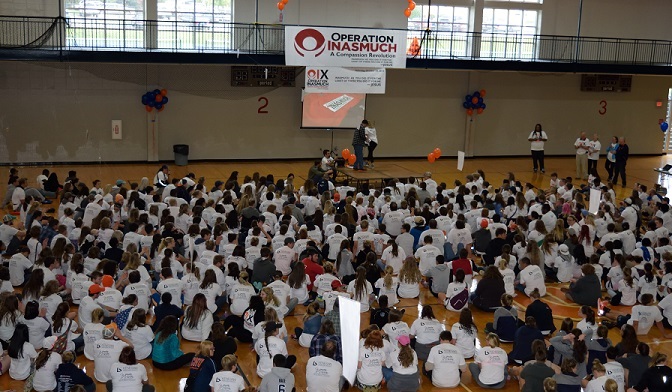 When were your values formed?  When in your development did you decide what you wanted to be involved in?  Most of us would answer these questions "in my college years."
Knowing this, Carson-Newman University in Jefferson City, Tennessee, has promoted community service for all of their students and Inasmuch has been a major piece of this strategy.  October 24 was the 10th Operation Inasmuch at Carson-Newman with more than 550 students and faculty involved.  A special video was made for the occasion and it may be viewed at:  Celebration Video.

At the kickoff gathering prior to the students scattering throughout the Jefferson City area and beyond to serve
needy families and agencies, Dr. Randall O'Brien, President of Carson-Newman expressed his gratitude for the partnership the school has enjoyed for 10 years with Inasmuch.  He said that Inasmuch has been a sort of stack pole for much of what they have done in the way of community service.  It has been a way for hundreds of students to get taste of service, then move on from there to serve at other times and in other ways throughout t
heir college experience. 
David Crocker, Executive Director of Operation Inasmuch, also spoke to the students and faculty gathered prior to the Inasmuch event.  He shared how this partnership began in 2006 and that Carson-Newman has become a model for how Inasmuch can be done on a college campus including the publishing of a Collegiate Version of Operation Inasmuch.  He challenged the volunteers to remember Moses' calling to liberate the Israelites from Egypt.  God used Moses' shepherd staff to show Moses how he would empower the sheep-herder to do what he was calling him to do.  Crocker then asked the C-N students the same question God asked Moses:  "What's that in your hands?"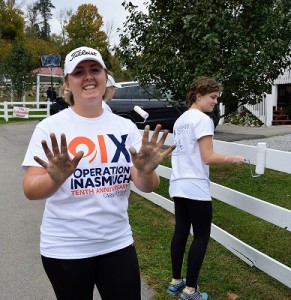 Carson-Newman has been recognized in recent years as the Number 1 or 2 college in America at inculcating service in their students by the Washington Monthly for "participation in community service and hours served," and by the U.S. Department of Education as the President's Honor Roll for Service.  Inasmuch has been a major contributor to these recognitions.
Other colleges where Inasmuch has been used to mobilize students include Campbell University, Buies Creek, North Carolina, Longwood University, Virginia, Old Dominion University, Hampton, Virginia. "Inasmuch is best suited for those schools that are church related or comfortable with the biblical mandate to serve but it may also work well in other private or state-run schools," says Crocker
"So, we are helping Carson-Newman brand themselves as the place to go if you want to learn how to serve," says David Crocker.  "I cannot think of a better accomplishment for a ministry that wants to inspire a compassion revolution!  Our hope is that years from now, serving will continue to be valued because of the experiences with Inasmuch in the developmental years of these hundreds of students."