Unstoppable Jim Duncan Loved Inasmuch
Some people make an impression by their achievements and their honors. Some do so by their charisma or unique personality. And a few impress others by their character and perseverance. Jim Duncan of Fayetteville, NC was such a person.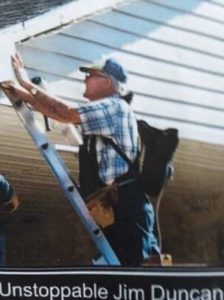 Jim was born and raised in Alabama, fibbed about his age to join the Army as a teenager, rose through the ranks until he reached Command Sergeant Major (the highest rank for enlisted personnel), and retired after 27 years in the Army. He married the love of his life, Jean, when he was a teenager and these two shared 72 years together. The last 20 years of his life saw him struggle with emphysema and at least the last 10 years of his life he was tethered to an oxygen tank 24-7. On August 6, Jim Duncan was released from his struggle and ushered into that place God has held in reserve for him for almost all of his living days.
Jim was among the first to participate in Operation Inasmuch at Snyder Memorial Baptist Church of Fayetteville in 1995. For nearly 20 years, every time the church held an Inasmuch Day Jim and Jean were part of it. Most years Jim was involved in home repair projects because he was good with his hands and enjoyed that kind of work. The photo to the right shows Jim in one of his last Inasmuch projects. The large, dark object on his back is his oxygen tank. Hence the title "Unstoppable Jim Duncan."
David Crocker, Founder of the Inasmuch ministry, participated in Jim's funeral at Snyder Memorial. He pointed to this photo which was printed on the funeral program. He said, "This picture says exactly how I remember Jim Duncan. First, he was on a ladder working on an Inasmuch home repair project with an oxygen tank on his back. Most people wouldn't do that. They would say 'I can't do that work anymore.' Not Jim. Instead, he said 'what needs doing here?' and he set about doing it."
Crocker went on, "The second thing this picture shows is that Jim wasn't working on his own house, but someone else's, probably someone he did not know but who needed what he and his fellow volunteers could do for them. Jim was motivated by compassion for anyone who needed what he could do for them. And finally, this was an Inasmuch project of which he was a part. Jim loved Operation Inasmuch. He recognized that Jesus' followers are to carry on what the Savior did to help people. And he chaffed in his last years at the fact he could no longer participate."
"I will never forget Jim Duncan." says Crocker. "He epitomized the spirit of Operation Inasmuch. He and other key players in the early years inspired me… and still do."