Compassionary of the Year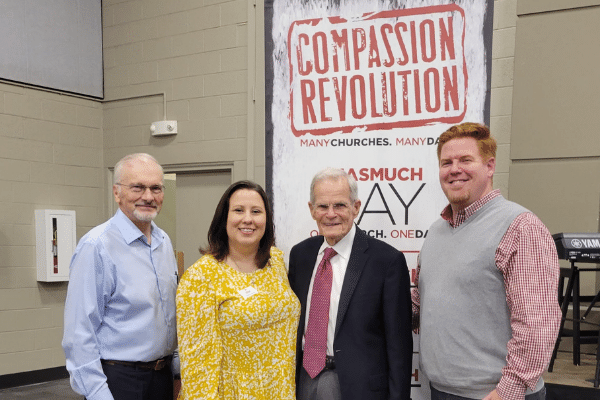 I want to introduce you to a new word. It was definitely a new word for me in 2021 and that word is "Compassionary."
The founder of Operation Inasmuch, Dr. David Crocker, has written a book that is being printed as I type called "Compassionaries: Unleashing the Power of Serving." We are excited for him and for readers to be blessed by the message of this book. 
But this word, compassionary, is an amazing word. It's a little like compassion and a little like missionary. We generally know what a missionary is but let's define compassion. From a Biblical viewpoint, compassion is that human disposition that fuels acts of kindness and mercy. It is a form of love that is aroused within us when we are confronted with those suffering or vulnerable. Compassion is not a uniquely Christian response to suffering, even though Christians have unique reasons for nurturing their compassionate dispositions. So, a compassionary is an individual who puts compassion into action for themselves, their communities, and the world. Or, further defined as a change agent emboldened to make a difference, serving beyond responsibilities to family and work to give help and hope to the least, the lonely and the lost.
Through the 26 years of this ministry, our staff have encountered so many people that have given their lives to sharing compassion with those around them. And we wanted to take the time in 2021 to begin acknowledging those individuals with the Compassionary of the Year award. 
At a recent breakfast that we hosted in Knoxville, we were honored to award the first Compassionary of the Year award to Bill Williams. 
If you have lived in East Tennessee during the last 40 years, you probably know Bill. Bill Williams began with WBIR in 1977, coming to East TN from Missouri, where he began his journalism career. For 23 years, Bill came into our homes each evening to not just share the news but to tell the story as only he could. Bill approached his position as a ministry and in 1980, he created a segment called "Monday's Child." Monday's Child led to close to 1,500 foster kids profiled on the news and over 1,000 children finding forever homes. In the mid 90's, Bill started the Mission of Hope, which started as a Christmas initiative and turned into a many year campaign to help Appalachian people live a better life.
He was a tremendous anchor and reporter. Bill helped welcome the world to Knoxville for the 1982 World's Fair and was the first journalist in Knoxville to be live via satellite when he covered the 1983 Congressional Hearings in the Butcher Banking Scandal. Daily, Bill covered stories of change, challenges, and hope. Bill officially retired from the WBIR in 2000 and a second time in 2006 but still remains anchor Emeritus even today.
Just a few of his honors through the years include the "Silver Circle Award" from the National Academy of Television Arts and Sciences, and Honorary Doctorate of Divinity from Carson Newman University, and Bill was inducted into the Tennessee Journalism Hall of Fame 2019
A few other things about Bill. Bill is a faithful and active member of his church, Central Baptist Fountain City and is an accomplished pianist and singer. People of East Tennessee LOVE Bill Williams
Bill devoted his life to the people of East Tennessee and daily showed compassion to all he met, using his platform to serve and love others, leaving a legacy of compassion behind for all to model. 
In his acceptance speech, Bill, as you might have imagined, took very little credit. Bill stated, "This is beautiful. Thank you so very much. I accept this with honor and humility, and I accept this on behalf of many, many OTHER people. See, all of that 'stuff' that I did and that I am credited with… I was just the messenger. So many people responded to my message, but I was simply the messenger. So, on behalf of all of the others, I say 'Thank You.' Thank You! I have been God blessed and I pray God's blessings over you." 
2 Corinthians 5:20 tells us that we are ambassadors for Christ, as though God were making an appeal through us. So as ambassadors, let's show compassion as we go each day. You may not have the platform in life that Bill Williams had, but you have the platform and the circle of influence that God intends for you. Be a compassionary in everything that you do and know that you have a chance to make an impact for the kingdom right where you are today.