Inasmuch United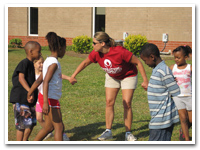 A revolution starts with a popular movement of shared passion. Operation Inasmuch encourages movements of shared compassion as we equip groups of churches to serve together in one-day community compassion outreaches: many churches; one day.
Inasmuch United is a multi-denominational, multi-racial, multi-dimensional, multi-church ministry event in which thousands of church volunteers conduct dozens of hands-on ministry projects to serve thousands of people in need across their communities all on a single day. Inasmuch United pioneers inter-denominational cooperation.
Statistics in for 2011!

Churches worked together to serve their communities through 18 Inasmuch United events. Each Inasmuch United included on average 16 churches collaboratively sending out 600 volunteers to serve 2500 people through 35 projects!
One recent city-wide Inasmuch United served over 17,000 needy people when 29 churches sent out more than 3200 volunteers on a single day. More than 1000 churches joined forces for North Carolina's Inasmuch United in 2008. More then 36,000 volunteers conducted 4200 projects, serving nearly 300,000 people! Of those served, 263 became Christians.

This type of collaboration fosters church unity, increases the impact on a community, engages volunteers with the excitement of being part of something God-sized, and creates a movement of compassion, drawing more churches into service.