Operation Inasmuch, Inc. is hosting the first Compassion Revolution Network Conference August 2-4, 2018 in Knoxville TN. We've mailed out nearly 2,000 Conference brochures, have been posting information on our Facebook page and website www.operationinasmuch.org, AND NOW, the conference website is up and running where you can learn more, register, and make hotel reservations at www.compassionrevolutionconference.com.
On Friday and Saturday of the conference we will be offering over 30 break-out sessions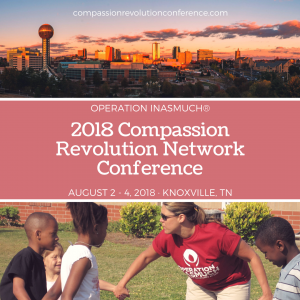 featuring George Bullard of Faith-Soaring Churches and the Columbia Metro Baptist Association in Columbia, SC, Eddie Hammett of Transforming Solutions, and Mark Tidsworth of Pinnacle Leadership Associates, all leading church consultants and coaches sharing thoughts and ideas about mobilizing congregations into the future. There will also be sessions led by Executive Director, John Daugherty, and Founder, David Crocker, about various aspects of Operation Inasmuch. We have other great presenters addressing various outreach and ministry opportunities. There will be several sessions with panel discussions on Inasmuch project and promotion ideas, managing Inasmuch United, and more from Inasmuch experiences.
But we still want to hear from you! We have some folks lined up for the panel discussions, but we'd like to extend an invitation for more of you to serve on a panel discussion group. If you have great project ideas, thoughts on funding, really creative promotion ideas, or have been involved in Inasmuch United in your communities we'd like to hear from you and have you participate. [Read more…]