The Rappahannock River runs from about King George, Virginia (east of Interstate 95) to the Chesapeake Bay.  As it gets closer to the Chesapeake, it becomes a substantial river of up to 1.5 miles wide!  Turns out this expansive river is not much of a barrier for Inasmuch!
Essex County, Virginia is on the western shore of the Rappahannock.  In 2008 about 20 churches there conducted their first Inasmuch United Essex and have followed every year since with more churches and more volunteers each year.  In recent years organizers have talked about taking a year off, but the churches have resisted.  They say it is one of the most significant events in their community all year!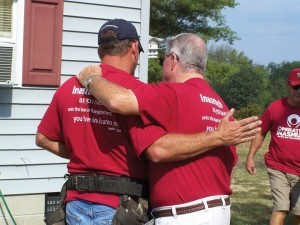 In 2009 word about Inasmuch "floated" across the Rappahannock to the region known as Northern Neck Virginia which includes the counties on the eastern shore of the Rappahannock.  In 2010 a number of congregations in Richmond and Westmoreland Counties conducted their first Inasmuch United Northern Neck event.  It expanded the following year to include congregations in Northumberland County.
"On Saturday, September 28, hundreds of local Operation Inasmuch volunteers wearing conspicuous red shirts will once again be working throughout the Northern Neck as part of the fourth annual Inasmuch United Northern Neck event," reads the opening line of the lead article in the Northern Neck News, September 20 issue.  The article continues:  "At 8:00 AM volunteers from three counties representing over twenty churches and several local organizations will begin work on numerous projects in the community to help neighbors in need."
David Crocker, Executive Director of Operation Inasmuch, Inc., says:  "Needless to say, the expansion of Inasmuch in northeastern Virginia is gratifying.  I just wish everyone associated with Inasmuch, especially our donors, could hear how excited believers on both sides of the Rappahannock are about Inasmuch.  At a workshop I led in Virginia last May, a person involved in the Inasmuch United Northern Neck went on and on about what Inasmuch has meant to that region."
The Rappahannock is fast becoming a model for the rest of Virginia.  Plans are underway for a statewide Inasmuch in October of 2014.  The goal is to have 80 percent of the Baptist churches in the state conduct Inasmuch events across the state during a period of 4 weeks.  The Inasmuch ministry is working with the Steering Committee of Operation Inasmuch – Virginia to accomplish these lofty goals.  Already 3 Inasmuch training sessions have been conducted in the state with 2 more set for this October and as many as half a dozen next March.
Says David Crocker:  "No river is too wide and no mountain is too high for Inasmuch to get across it with the message that God's mercy is best shown, then talked.  Without a doubt, Inasmuch is changing the way people in Virginia think about church!"