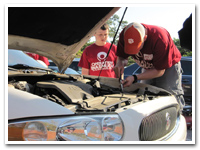 Whether you serve your community on an Inasmuch Day, join with other churches for an Inasmuch United, or take your congregation deeper into Inasmuch Life, your church will experience life-changing results:
It was a very exciting day for all of us! We had people from age 6 to 99 involved.
Carol Mohamed, Inasmuch Day Coordinator
Rodman Street Missionary Baptist Church
Pittsburgh, PA
Contact us if you're ready to join the Compassion Revolution or for more information.