Our Mission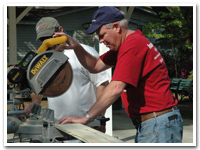 Operation Inasmuch invigorates the body of Christ – the church – to live out the Gospel through daily acts of compassion:
Serving the un-served
Loving the unloved, and
Reaching out to the un-churched.
Our Vision
A Compassion Revolution across America by which more people in more churches serve their neighbors in need more frequently!
Our Passion
The church in America has in many cases turned inward, failing to function as salt and light to our world. We desire to see the church truly act like the body of Christ, serving its neighbors in need with compassion, following both the example and command of Jesus who's first sermon (Luke 4:18-19) quotes Isaiah 61:1-2:
The Spirit of the Lord is on me,
because he has anointed me
to proclaim good news to the poor.
He has sent me to proclaim freedom for the prisoners
and recovery of sight for the blind,
to set the oppressed free,
to proclaim the year of the Lord's favor.
Jesus calls the church to carry on the mission He started through many acts of compassion, acts that gave physical expression to the good news of the Cross.
Operation Inasmuch is passionate to see the church become what it is called to be in 1 Peter 2:9-10:
… a chosen people, a royal priesthood, a holy nation, God's special possession, that you may declare the praises of him who called you out of darkness into his wonderful light. Once you were not a people, but now you are the people of God; once you had not received mercy, but now you have received mercy.
In Luke 6:36, Jesus commands us to "be merciful, just as your Father is merciful" – just as we have received mercy, we must extend both physical and spiritual mercy. And Jesus tells us in the parable of the Good Samaritan and elsewhere that such mercy means to serve our neighbors in need, those He calls the "least of these."
Operation Inasmuch is therefore passionate to motivate and equip the church to fulfill Jesus' calling and command of compassion.
Our Values
We adhere to the orthodox confessions of the Christian faith (Statement of Faith in PDF format).
Our core values include:
Obedience to the Biblical mandate to demonstrate God's love
Support for the local church
Desire to reflect God's heart of compassion
Ministry to those outside of the church
Focus on innovation
Commitment to integrity