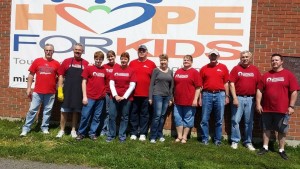 2015 marked the first year that Kentucky Baptist Convention churches were invited, encouraged and trained to conduct a statewide Inasmuch effort. Over 130 churches attended regional trainings in preparation for an emphasis for Inasmuch Days in the fall of 2015.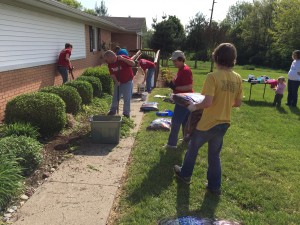 Through the end of November we know these amazing results. 104 churches have already conducted Inasmuch Days, and some of those were done as Inasmuch United efforts through associations and in communities. Those 104 churches turned out 4,937 volunteers who in turn completed 28,153 projects. Laundry was paid for, gas was purchased, landscaping, painting, home repair, wheelchair ramps, and roofs were completed and repaired. But more importantly, lives and communities were changed! 
Those 104 churches and their nearly 5,000 volunteers served 34,357 people! There's no way to measure the real impact of those acts of Christ's love and compassion on those lives. But we do know the value, in dollars and cents, of man-hours put in and cost of materials…are you ready? The value of that effort is estimated at $693,145! And we also know there were over 300 opportunities to share the Gospel of hope with people who've never experienced such eternal hope before.
Plans are in place for another state-wide effort in Kentucky in 2016. We also know that some of the 130-plus churches trained this year have plans to do their first Inasmuch Day in the spring of 2016.
Jesus said in Luke 9:23, "And he said to all, 'If anyone would come after me, let him deny himself and take up his cross daily and follow me.'" (ESV) He also said regarding the coming judgment in Matthew 25:40, "And the King will answer and say to them, 'Assuredly, I say to you, inasmuch as you did it to one of the least of these My brethren, you did it to Me.'" (NKJV)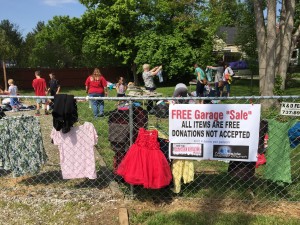 This is what the Kingdom of God on Earth as it is in Heaven looks like. Everyday church folks giving, sacrificing, serving, following the example of Christ through acts of compassion. The ministry of the church given to us by our Lord is one of transformation – transforming one life at a time and in turn transforming the communities where we live.
Jesus began a compassion revolution! And he started with the least, the ones we tend to overlook and ignore. He did it by meeting people at the point of their need. And one by one, the world has been impacted with good news filled with hope and joy.
Let those number sink in: 104 churches, 5,000 volunteers, 28,000 projects, 34,000 served, $693,145 invested, 300 times the Gospel was shared! May the tribe of Operation Inasmuch churches continue to grow and may lives and communities be changed, transformed!
John Daugherty, Executive Director