When Keith Guinn was asked to head up his church's first Inasmuch Day this past spring, he said "I can't do it, but with God's help, we'll get it done."  After Euto Baptist Church of Marshville, NC, mobilized almost half of their average Sunday attendance in April, Guinn exclaimed, "It was the most amazing thing I've ever been a part of!"
One of the 19 projects conducted by the Euto congregation was building a house in one day!!  "The foundation was poured beforehand, but we completely dried-in the house—walls, roof, doors and windows—in one, long Inasmuch day," says Guinn.  He says that about a month before Euto's Inasmuch, one of the church members asked if the church could build his grandfather a house.  The elderly man in his mid 80s had recently lost his wife and he needed to live closer to his son but couldn't afford to hire a contractor.  The church agreed to include the ambitious project among their list of ministry opportunities and God took over from there.  The man's family purchased the materials and church volunteers provided the labor.
When David Crocker trained members of Euto Baptist to conduct an Inasmuch Day, he said, as he always does in these training sessions, "When we do what God tells us to do, He always has more in mind."  Remembering that line, Guinn now says, "I am a witness to that truth.  I saw it in April of this year, and we're already planning our next Inasmuch for 2013."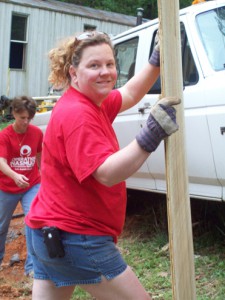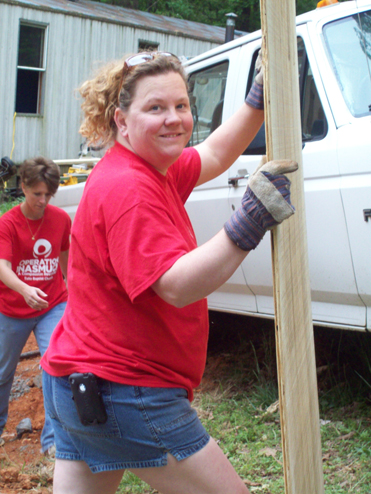 Euto Baptist Church involved 155 people from their church in their Inasmuch Day which is just under half their congregation.  They served more than 200 people, and the most amazing result of their day of service was that nine people became followers of Jesus as a direct result of the compassion ministry they rendered through Inasmuch!
Guinn's unchurched neighbors were astounded at what the church did in one day.  They attended a breakfast gathering of the volunteers prior to the start of their projects and were moved to ask:  "Why are y'all doing this?"  They returned to their home that day with nothing but praise for a church that has shown, not just told, their small community God's love.